Beginner Emergency Ultrasound
Format
This pre-course is offered in a live one-day format on
Saturday October 15, 08:30 – 17:00 at the Congress center in Berlin.
Objectives
Fundamentals of basic emergency ultrasonography (philosophy and scope, knobology and physics, artifacts and pitfalls, modules indications)
Image acquisition techniques for the basic modules (E-Fast, abdominal aorta, IVC, echo)-image interpretation
Hands on training of ultrasound guided peripheral and central cannulation on vascular simulator
Identification of the most common sonographic pathological findings, incorporation in everyday clinical practice
Overview
The major part of the course includes hands on practice on real models and simulators
Use of advanced ultrasound machines
Short, state-of-the-art, presentations of the basic modules
Small groups (maximum of 4 participants/instructor)
Sufficient time to get familiarized with the machine, hands on scanning, interaction with the instructor
Introducing common pathologies, interpretation of abnormal images, case discussion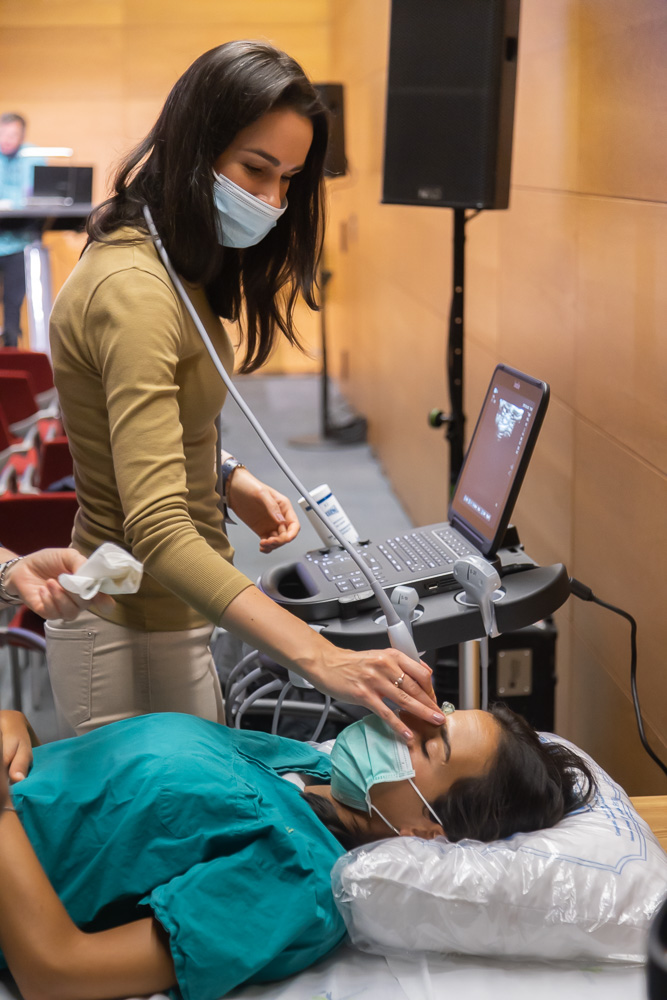 For who
Emergency Physicians (consultants, trainees, Emergency Medicine Physician Assistant's)
Educational Material
Online educational material will be provided to the participants in advance
Registration
The costs for this course are
€ 270 for physicians
€130 for nurses, paramedics and students
In combination with the Advanced Emergency Ultrasound Course you pay:
€ 370 for physicians
€ 195 for nurses, paramedics and students
Please register through your MyEUSEM account by clicking on the EUSEM Congress registration button. From the Pre-courses tab you can select the pre-courses you would like to join.
Faculty
Course Director: Effie Polyzogopoulou
Course co-directors: Senad Tabakovic, Paul van Overbeeke
Hani Hariri, UAE
Zeki Atesli, UK
Nicolas Lim, SG
Ernest Lim, SG
Chan Kim Poh, SG
Chris Yap, UK
Patrick Kishi, USA
Najib Nasrallah, IL
Joseph Osterwalder, CH
Farooq Pasha, UAE
Kalyana Murali, UK
Eric Chin, USA
Nora Shemery, USA
Renato Rapada, USA
Rip Gangahar, UK
Mohit Aurora, UK
Nasim Azizi, NL
Prem Sukul, NL
Arthur Rosendaal, NL
Pete Croft, USA
Tomas Villen, ES
Christina Morone, USA
Nour Al Jalbout, USA
Hana Dubsky, USA
Onyinyechi Eke, USA
Caitlin Springer, USA
08:30-08:45
Welcome and introduction
08:45-09:30
Physics-Knobology-Artefacts: The Basics.
Hands on: Get familiar with the machine
09:30-09:45
AAA/IVC: Tips & Tricks
09:45-10:30
Hands on: Aorta/IVC
10:30-10:45
e-FAST: Tips & Tricks
10:45-11:15
Coffee break
11:15-12:30
Hands on: e-FAST
12:45-13:45
Lunch Break
13:45-14:00
Basic Echocardiography: Tips & Tricks
14:00-14:45
Hands on: Echocardiography
14:45-15:00
US guided peripheral-central IV line placement: Tips & Tricks
15:00-15:45
Hands on: IV lines + practice on phantoms
15:45-16:15
Coffee break
16:15-17:00
Interactive case discussion
17:00-17:15
Wrap up
| | |
| --- | --- |
| 09:00-09:15 | Welcome |
| 09:15-10:00 | Image Acquisition and Instrumentation |
| 10:00-10:30 | Aorta |
| 10:30-11:00 | Coffee Break |
| 11:00-11:45 | Echo in the ED |
| 11:45-12:30 | (eFAST) Examination |
| 12:30-13:30 | Lunch |
| 13:30-14:00 | Vascular Access—central and peripheral lines |
| 14:00-14:45 | Hands-on Session #1 |
| 14:45-15:30 | Hands-on Session #2 |
| 15:30-16:00 | Coffee Break |
| 16:00-16:45 | Hands-on Session #3 |
| 16:45-17:00 | Wrap up and Adjourn |
| | |
| --- | --- |
| 09:00-09:15 | Welcome |
| 09:15-10:00 | Image Acquisition and Instrumentation |
| 10:00-10:30 | Aorta |
| 10:30-11:00 | Coffee Break |
| 11:00-11:45 | Echo in the ED |
| 11:45-12:30 | (eFAST) Examination |
| 12:30-13:30 | Lunch |
| 13:30-14:00 | Vascular Access—central and peripheral lines |
| 14:00-14:45 | Hands-on Session #1 |
| 14:45-15:30 | Hands-on Session #2 |
| 15:30-16:00 | Coffee Break |
| 16:00-16:45 | Hands-on Session #3 |
| 16:45-17:00 | Wrap up and Adjourn |